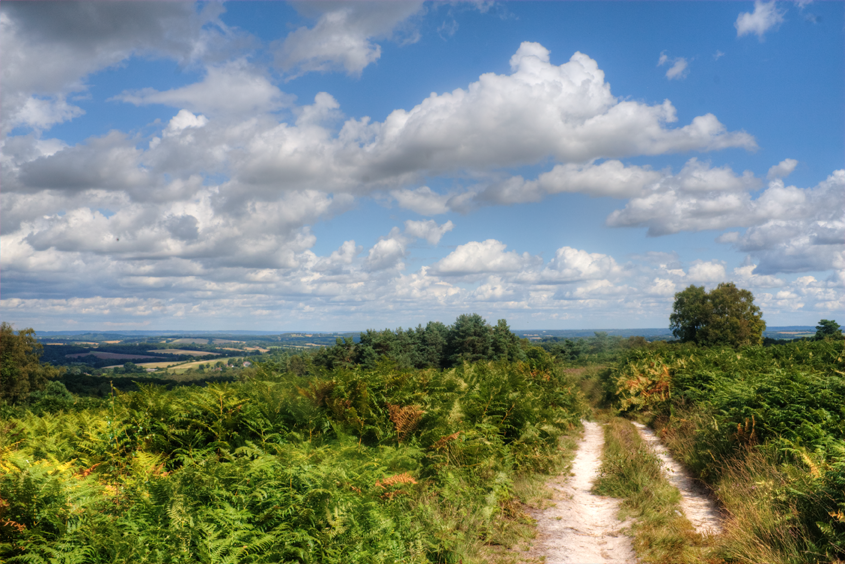 Explore & Learn
There are 6500 acres of wilderness to explore on Ashdown Forest. Whether that's as a walker, on horseback, or with your family, there's always an adventure to be had.  
This jewel in the crown of southern England is constantly changing with the seasons, from the swathes of purple heather in full bloom on a summer's day, to the blankets of mist in winter.
We work hard to welcome all visitors to the Forest while also managing the rare habitats which make it so special. Please follow our Forest Code of Conduct.
Fire access tracks criss-cross the 6500 acres of unspoilt heathland in Ashdown Forest, making it popular for horse-riding.
A riding permit gives access to this network of unspoilt off-road routes and ensures that numbers are managed to help protect the rare heathland.
There are also a number of licensed private riding centres with permission to lead hacks across the Forest.
Ashdown Forest is one of the rare unspoilt corners of England.  As well as being a beautiful place to visit, this wilderness provides a rich source of learning.
We offer many educational opportunities thanks to funding from Natural England and the Friends of Ashdown Forest.
The Ashdown Forest Centre is an information centre for those who want to learn more, and often holds events and exhibitions..
There are more than 40 car parks across Ashdown Forest.
The car parks link with our walking routes to form the starting points of circular walks around the Forest, and are open until midnight.
Ashdown Forest has a rich and fascinating history. The rolling landscape dates back thousands of years, but has in fact been heavily shaped by human activity.
A pre-historic stone axe found on the Forest suggests that humans occupied the area more than 50,000 years ago. A Roman road stretching across the Forest tells us of its importance then whilst the Anglo-Saxon scholar, St Bede, warns of the dangers of wildcats, wolves and bears.
In the medieval era, Ashdown Forest was enclosed as a royal hunting ground behind a 23 mile pale, or fence. This protected it from development, and meant it retained its character as a wilderness, but also excluded many people from the Forest.
The Forest was regularly visited by Henry VIII, who rode out from his hunting lodge at King's Standing.  Stories even exist of Henry wooing Anne Boleyn on Ashdown.
In the 18th century, large areas of the Forest were enclosed, and the remainder set aside as common land, with grazing rights for people living there.
Historic records describe the many battles waged to keep these rights, which eventually led us all to be able to enjoy walking access to Ashdown Forest today as the use of common land altered.